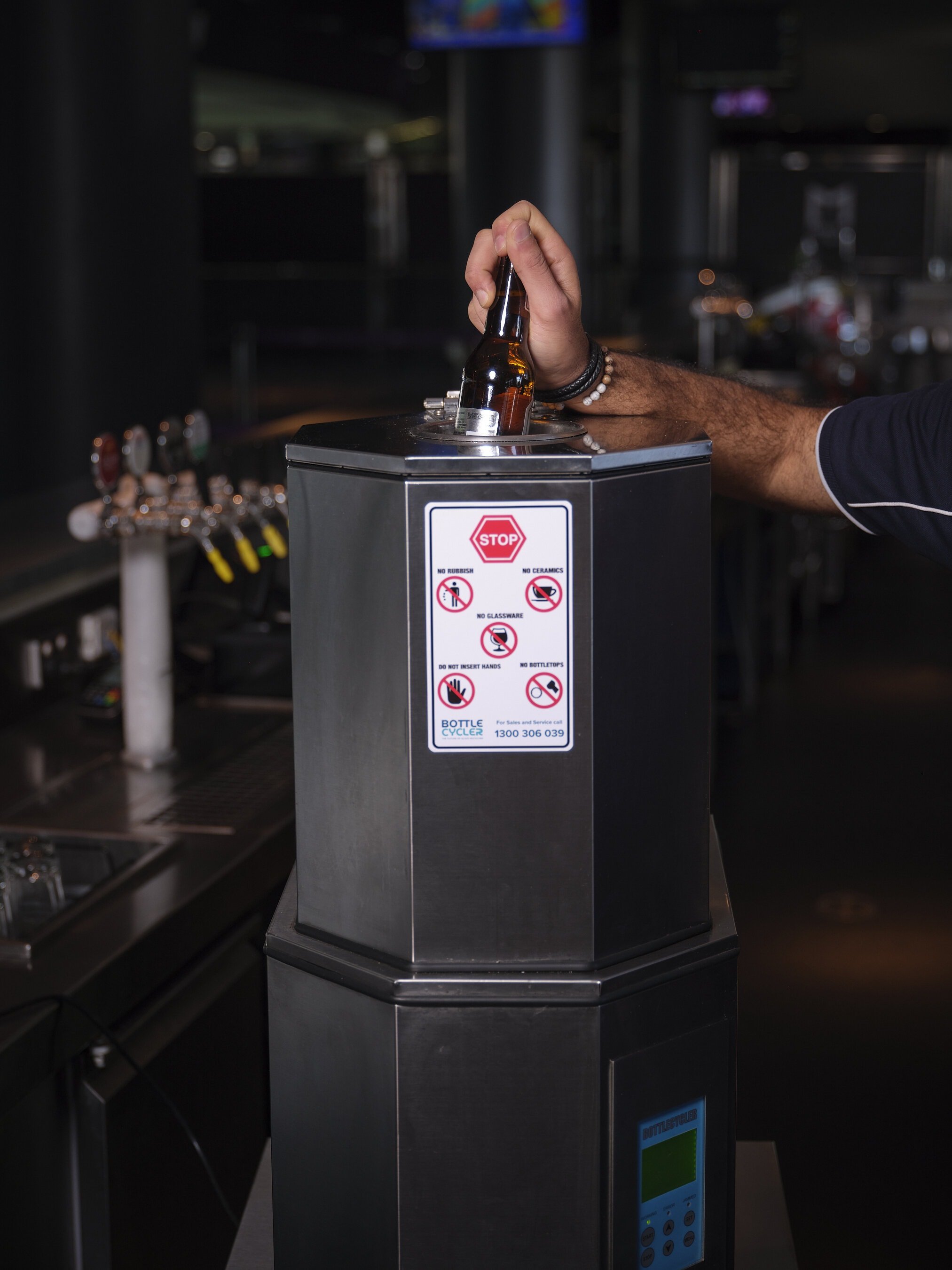 After two years with smaller crowds, the 2022 Melbourne Cup Carnival was a welcome return of Victoria's premier racing events to the nation's social calendar. Hosted by the Victoria Racing Club (VRC) at Flemington, the carnival consists of four race days over the course of a festivities-filled week: Derby Day, Melbourne Cup Day, Oaks Day and Stakes Day.
Close to 250,000 people returned to Flemington. With a mass level of attendees, the importance of managing waste and the event's environmental footprint is at the forefront. An event of this size requires a unique solution, with the sheer amount of glass posing a challenge to space, transport and workflow efficiencies.
Efficient and robust glass recycling management
Cirka brings over 34 years of experience in the cleaning and facility services industry and has been awarded AMP's National Contractor of the Year Award. Contracted to maintain Flemington Racecourse, Cirka's long-standing relationship with BottleCycler meant the teams were able to work together to deliver a seamless glass recycling solution across this international event.
'Prior to BottleCycler, we had a very manual way of processing glass – a range of different colours meant you couldn't recycle in one bucket', said Craig Moca, Cirka's National Manager (Venues & Events) 'When we found out about BottleCycler, we asked "how can we make things better?".'
When Cirka was first introduced to BottleCycler's industry-leading technology, the efficiencies were evident. 'They offer huge economies of scale that work in your favour – this year, we had over 50 tonnes of crushed glass taken away from the Melbourne Cup Carnival,' Craig shared. 'If you're looking for a single solution to glass waste disposal while saving space, BottleCycler is the way to go.'
BottleCycler's unique full-service glass recycling solution ensured that the Carnival's glassware consumption was handled sustainably, efficiently and safely. While Flemington Racecourse makes use of BottleCycler's Australian-made bottle crushing machines year-round with 12 permanent machines on site, BottleCycler installed an additional 18 standard machines and six chute machines to meet the needs of the masses across the Carnival's duration.
'When you're doing a lot of bottle products, particularly champagne bottles and wine bottles, there's not a lot of space back-of-house, particularly for waste,' said James Reid, Operations Executive General Manager of Victoria Racing Club. 'BottleCycler's solution ticked multiple boxes by allowing waste to be transported offsite more efficiently while also reducing the amount of usable space required to achieve a 100% glass recycling outcome.'
Across four days of heart-pounding racing, BottleCycler collected all glass onsite, diverting 100% of used glass from landfill. This is a significant milestone for the Melbourne Cup Carnival – with 50,000kg of glass diverted from a landfill destiny, BottleCycler allowed every one of the 244,000 attendees' glass consumption to contribute to sustainability, not to excess waste.
The impact of 50,000kg of glass
With such a mass amount of glass recycled, rather than inefficiently disposed of, the results speak for themselves. 50,000kg of recycled glass results in 31.248 tons of CO2 saved, 7.50 cars removed from the road, 345.24 gigajoules of electricity saved and 122,976 litres of water saved.
George Azzam, General Manager of BottleCycler, was thrilled to see the role BottleCycler played in delivering such a sustainable outcome at this large-scale event.
'We appreciate the vision of both the Victoria Racing Club and Cirka to use BottleCycler as a single-source glass waste management solution for not only the Melbourne Cup Carnival, but all year-round,' shared George. 'We look forward to continuing this strong relationship well into the future, continuing to gain great results for their business, their people and, ultimately, for the planet.'
To discover how BottleCycler can add efficiency and sustainability to your venue or business, get in touch and make the most of our one month free trial.