SAVE SPACE, SAVE MONEY
Why throw money away disposing of glass the old way? Our glass crushing machine reduces your waste volume by up to 80% so you can store up to five times the amount of bottles in the same space. Whilst your staff stay where they are most profitable – behind the bar serving customers!
REDUCE NOISE
We have the quietest machine on the market, which means it can do its magic front-of-house, right where the action is.
FULL SERVICE SOLUTION
We take care of everything from on-site machine maintenance and breakdown support to glass collection. All you need to do is pop the bottles into the machine and get crushing.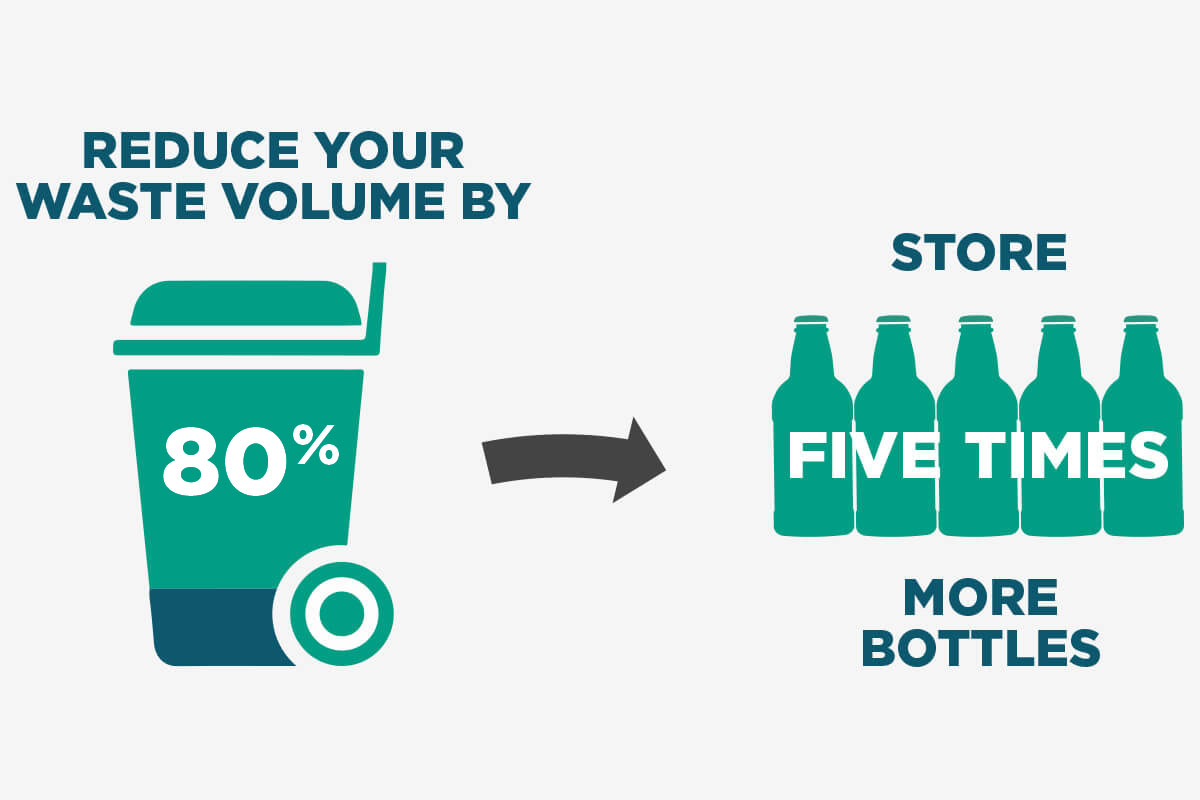 EASIER FOR STAFF
With our state-of-the-art crushing system, your staff won't have to leave the front of house and can crush and store bottles as they go.
SAFER FOR STAFF
BottleCycler helps with OH&S by removing the danger of carrying, sorting and disposing of glass bottles. It eliminates the need to lift heavy bins or remove them to unpleasant outdoor waste areas during the shift.
BottleCycler is significantly quieter than any other glass crushing machine – about the same as a coffee grinder – with greatly reduced noise during early morning glass collections too. Which is great for your customers, your staff and your neighbours!

LESS WASTE
By reducing your glass bottle volume, you're creating great knock-on effects. You'll generate less waste and reduce contamination – so your glass ends up recycled, not in landfill. Plus, your customers will love that you're being more environmentally friendly.
NO BOTTLE IS WASTED!
At BottleCycler, we believe that sustainability is everyone's business! Which is why almost every glass bottle that goes through a BottleCycler machine gets recycled back into a new glass container again! Never into landfill.
Reduced glass volume will result in fewer trucks, smaller trucks, less petrol, less CO2 pollution and less noise pollution. It's a much better outcome for the environment. Something we're sure your customers will be VERY glad to hear too!
BottleCycler has allowed us to remove all glass from our mixed waste which in turn has reduced the volume of general waste and saved us money. A far more efficient and greener way of conducting business.

The Plough Inn, Southbank, Brisbane
The BottleCycler system was crucial to expand my business. The space saved gave me the opportunity to open our Bathers' Beach Kiosk which contributed greatly to the growth of my business.

The Bathers' Pavillion, Balmoral
Bottlecycler has had an enormous impact on our venues in relation to staff OH&S, space saving and cleanliness. Since inception one of the best decisions we have made across the Trippas White Group.

Trippas White Group
BottleCycler have without doubt always been an excellent company to deal with.

They take what they do very seriously and make sure all of their equipment is functioning safely and efficiently at all times.

The Star Casino, Sydney
Wenty Leagues has been using the BottleCycler glass waste management system since 2016.
We now have 4 machines that help us to ensure that all the glass produced by the club is recycled safely and efficiently.

Wentworth Leagues Club, Sydney
BottleCycler has provided the club with an effective and reliable glass management solution since 2011. The system is fast, safe and saves space in the venue while helping decrease our carbon footprint. 

Sydney St George Leagues club
Curious how our glass crushing machine would work in your venue? Put it to the test with our

free one month trial!
Give one of our glass recycling experts a call today on 1300 306 039.
Curious how our glass crushing machine would work in your venue? Put it to the test with our

free one month trial!
Give one of our glass recycling experts a call today on 1300 306 039.