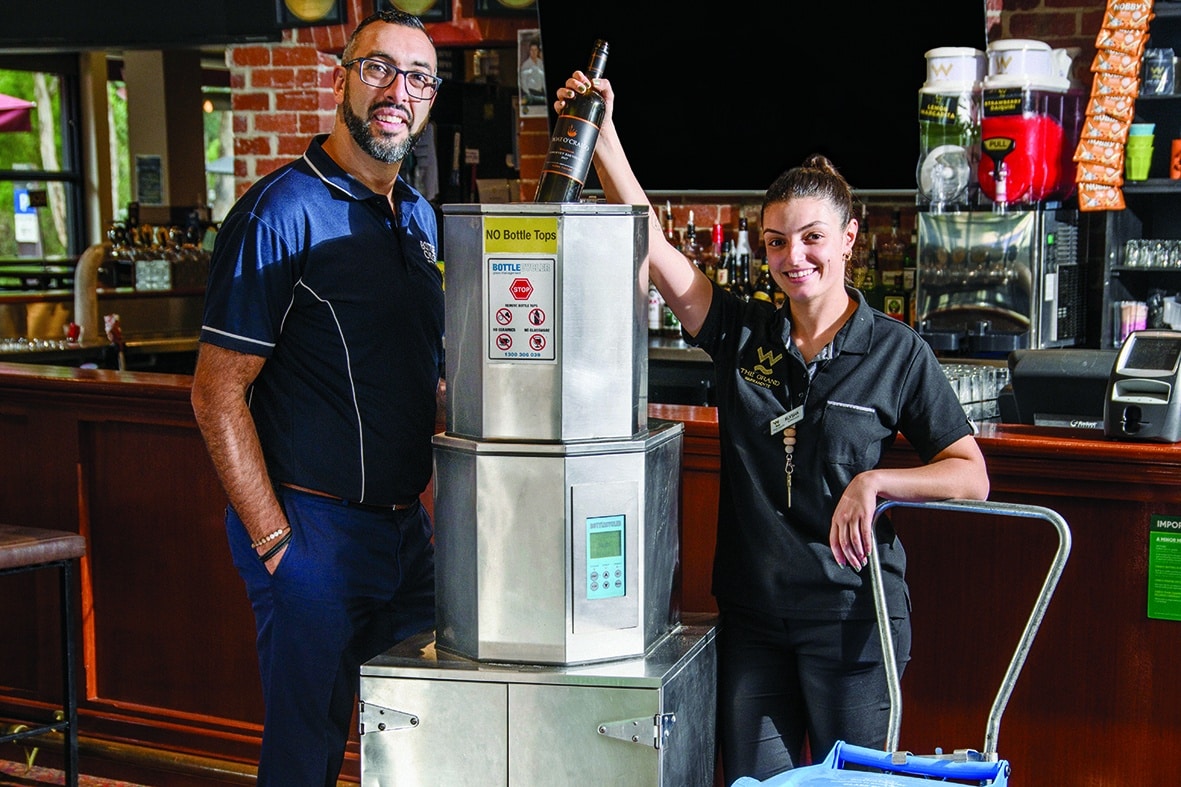 Things are changing at the Grand Hotel Warrandyte, and it's all thanks to BottleCycler. While the customers won't notice any changes, the staff and owners certainly do. The Grand Hotel Warrandyte is just one of many hospitality businesses to adopt the BottleCycler system to handle the disposal of glass bottles. Better for the environment, safer for staff and more cost-effective for the business, BottleCycler presents a win-win-win situation for all concerned.
How does BottleCycler work?
BottleCycler was developed in Melbourne around 20 years ago as an alternative way to dispose of glass bottles. The machine can crush around 80 bottles a minute and store 300 bottles worth of crushed glass.
The system itself is housed in a convenient, compact stainless-steel cabinet. Inside the cabinet is an empty bin where the crushed glass is stored. Sensors advise staff members when the bin is full, and it's simply a matter of attaching a handle and wheeling the bin to a collection point. From there, BottleCycler collects the bin and takes it to one of two processing plants to be recycled and turned into new glass bottles.
BottleCycler is also suitable for two and three-storey venues. The crusher can be placed on upper floors, with a chute that sends crushed glass to a waste room or basement where it can be collected safely in appropriate BottleCycler bins.
The Grand Hotel Warrandyte success story
Grand Hotel Warrandyte General Manager Peter Appleby found the system has numerous benefits and stated it was a no-brainer to have a machine installed at his venue. Since introducing the system, the Grand Hotel has recycled over 8,000kg of glass. This is the equivalent of saving five tonnes of carbon dioxide, 19,500 litres of water and diverting over 19 cubic metres of landfill.
So, what differences has Mr Appleby noticed since installing BottleCycler?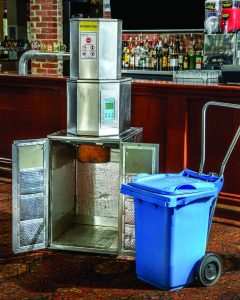 Improving staff safety
There are several ways that the BottleCycler system has improved staff safety. Firstly, Mr Appleby says that staff used to store glass bottles in bins under the bar. Three or four times every shift, a staff member would need to remove the bins, taking them outside and tipping them into a larger bin. The potential for injury while lifting heavy items, as well as the risk from broken glass, was very high.
Since BottleCycler's introduction, staff now simply put the empty bottles into the machine and swap the BottleCycler bin when it is full. With the handle system making it easy to remove the full bins, OH&S risks have been significantly reduced. As another bonus, neighbours of hospitality venues no longer need to hear the crashing of glass bottles being emptied into trash bins at all hours of the night.
Better efficiency
BottleCycler is also helping hospitality businesses through increased efficiency. With venues struggling to find staff, the BottleCycler helps even further. Rather than have staff wasting time heading outside to empty the glass bins three or four times every shift, they can now just put bottles in the machine and go straight back to serving customers.
Considering the BottleCycler bins can hold around 300 crushed glass bottles, staff now only need to change the bins once, at the end of the night. Ultimately this means happier customers and more efficient operations on every shift.
Cutting waste disposal costs
It costs money to have waste collected from hospitality venues, and those costs increase where waste sorting is required. Using the BottleCycler system, the Grand Hotel Warrandyte has reduced co-mingled waste collections by 50%, which immediately impacts their bottom line.
The BottleCycler system works on a rental model, so for a monthly fee, the machine is maintained regularly and repaired on-site if anything goes wrong. Depending on the venue's volume and pick-up schedule, a per-bin collection fee is payable. George Azzam, General Manager of BottleCycler, says it just makes sense because venues aren't paying twice to have their glass waste collected.
Helping the environment
Obviously, the other major benefit to businesses is the environmental factor. Mr Appleby stated that his venue fills about 18 bins every fortnight. With each bin having a 60-litre capacity and storing around 45kg of crushed glass, this equates to a massive emissions reduction and landfill diversion.
The BottleCycler system also adds value through robust reporting. Customers and stakeholders can see statistics on how much glass is recycled, how many cubic metres of landfill is saved and how many carbon emissions have been eliminated. This information can be shared on social media, for example, to let the public know that the business is doing its bit for sustainability.
While the main beneficiary here is our planet, it's also great for businesses that want to show customers their venue is improving sustainability.
Harnessing Container Deposit Schemes
With several states implementing Container Deposit Schemes (CDS) to encourage glass recycling, BottleCycler has developed another way to make the system even better. For example, in Queensland, BottleCycler systems identify eligible and ineligible containers and calculate the customer's refund accordingly.
In NSW, refunds are based on weight, and George Azzam from BottleCycler is working with the NSW Environmental Protection Authority to increase the refund. Victoria has a CDS starting in 2023, and BottleCycler will also incorporate this into the system.
Want to try BottleCycler in your venue?
At BottleCycler, we love introducing our system to new customers. With so many benefits to the environment, staff and businesses, it's the perfect way to cut costs and improve staff safety. BottleCycler is currently offering a free one-month trial for venues interested in seeing how the system can benefit them.
Contact our team and discuss your needs to get started. Most venues only require one machine with a regular collection schedule, however, the system is also being used in larger venues such as Marvel Stadium, Star Casinos, Flemington Racecourse and other premier events such as the Australian Open tennis and Formula 1 Grand Prix.
Contact us today and arrange your free one-month trial!